Management Software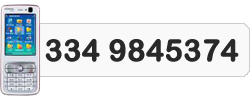 Call now

Accessories to increase
production at work

How have developed the inform@tizzare software ?

The products created by computerizing are developed on web platform. This means that the program works by using a simple browser and 'and' need to have an ADSL connection for Internet use.
What are the advantages of this model involves use of software ?

Programs that work on the web are made in ASP (Application Server Provider) and involve many advantages for the final score :
each operation is in real time;
there is no need to install any software on company computers but just use a browser (eg Internet Explorer / Mozzila) and have an Internet connection (ADSL);

the software online can be used at any time and anywhere in the world you are, without geographical boundaries or time;

no need to worry about buying other computers more powerful;

no need to purchase and manage expensive servers and is not necessary to make copies of rescue because they are made on our platform automatically;

updates are immediately available and without costly interventions for assistance;
STOP times TECHNICAL short or no, thanks to service Teleassistance.
E 'Simply install on your PC where you want to have the service Remote, a remote control software to third parties we provide for free;
possibility of customization of all software costs decidedly content.

My details are safe with programs online ?
Access to our software is always controlled by USER ID and PASSWORD safe. Moreover is always run the tracing of IP addresses from which requests start connecting to our server.
For most critical applications is also enabled encryption through SSL certificate to 128 bits that ensures total security guarantee transactions.

As you purchase software online ?
We always advise our customers to make a test in sections DEMO where you will find, for each software, fully functional demonstration version reachable click here.

After the DEMO for doubts or questions, please contact us.
Compiling the order to supply the page Product Order .
Will be contacted as soon as possible and will be communicated to him / her to make a payment. Subsequently receive your account and password.

What kind of license issuing inform@tizzare ?
The customer buys an annual subscription to the use of our software platforms.
Each year you must renew your subscription.